Virtual Spring Break Tournament Schedule
To Follow Entire Charlotte High School Virtual Baseball Season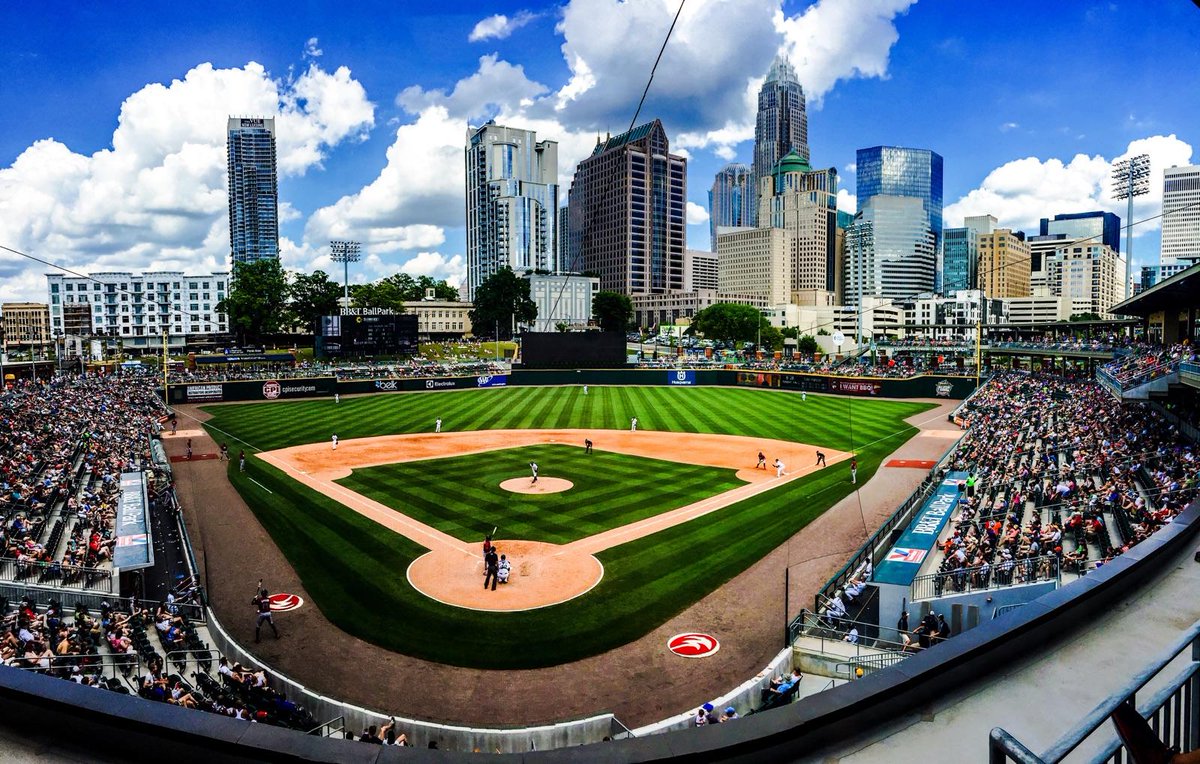 Queen City Tournament of Champions
Knights Stadium
3 Game Guarantee – Play to Championship
April 13-15
Round 1 Games
Providence
vs
Lake Norman
Marvin Ridge
vs
Mooresville
Ardrey Kell
vs
North Lincoln
Charlotte Christian
vs
Hough
Jack Sink — "The Grandaddy of them All"
East Meck/Myers Park
3 Game Guarantee – Play to Championship
April 14-16
Round 1 Games
Covenant Day
vs
Myers Park
Cox Mill
vs
Cuthbertson
Charlotte Catholic
vs
East Meck
Weddington
vs
Butler
49'ers Diamond Classic
UNCC Stadium
3 Game Guarantee – Play to Championship
April 17-19
Round 1 Games
Charlotte Latin
vs
Sun Valley
Country Day
vs
Parkwood
Cannon
vs
Independence
Olympic
vs
Hickory Ridge
Myrtle Beach – Easter Week Championship
Pelicans Stadium
3 Game Guarantee – Play to Championship
April 15-17
Round 1 Games
Carmel Christian
vs
Piedmont
Porter Ridge
vs
East Lincoln
SouthLake Christian
vs
Metrolina Christian
South Meck
vs
Providence Day
Knights Stadium — Round 1
Providence 4 Lake Norman 2
WP Eli Jerzembeck
Prov – Sam Fligel (2-3) Hunter Bryson (HR) Ryan Mangum (double)
LN Carson Arnold (2-3) Cameron Arnold (double) Kannon Frady (2 runs)
Mooresville 4 Marvin Ridge 3
WP Cameron Clonch
M Cameron Clonch (2-4) Braxton Russ (2-2) Alex Coleman (2 runs)
MR Josh swartz (double) Max Hyman (2-2) Sean Seale (HR)
Ardrey Kell 6 North Lincoln 4
WP Jake Cunningham
AK Tate Ellis (2 RBI's) Matthew Suppa (2-3)
NL Craig Rathbone (2-2) Daniel Carter (2 runs) Seth Whitley (SAC)
Charlotte Christian 1 Hough 0
WP Philip Abner
CC Brett Adams (single) Judd Uttermark (Sac)
H Noah Barrazino (single) Dylan Koontz (single)
April 14
Knights Stadium – Round 2
Providence 6 Mooresville 3
WP Jeremy Beamon
P Ryan Mangum (3-3) Hunter Bryson (2-2) Tommy Yakubinis (3 runs)
M Cameron Clonch (2-3, 3 RBI's) Alex Coleman (double) Ian Bingham (double)
Charlotte Christian 7 Ardrey Kell 3
WP Calvert Clark
CC Calvert Clark (2-3) Brett Adams (double) Philip Abner (HR)
AK Matthew Suppa (2-3) Tate Ellis (2-3) Meade Garner (2 RBI's)
Providence and Charlotte Christian will meet in the Finals
Lake Norman 7 Marvin Ridge 3
WP Cameron Arnold
LN Harris Dowdy (3-3) Michael Sumner (2-3) Carson Arnold (HR)
MR Sean Seale (2-3) Kyle McKernan (double) Josh Swartz (2-3)
Hough 2 North Lincoln 1
WP Luke Osteen
H Jake Gorman (2-3) Wesley Lug (RBI) Evan Swiney (Walk off Squeeze Bunt)
NL Kyle Brittain (2-3) Seth Whitley (RBI)
*** 2 out squeeze bunt to walk it off, amazing game
Jack Sink Tournament
Round 1
Myers Park 9 Covenant Day 3
WP Todd Lautenschlager
MP Luke Barbaryka (HR) Harrison Bobbitt (HR) Jack Shaw (2-3)
CD Robert Stone (3-3) Will Barclay (double) Ben Walton (2-2)
Cuthbertson 10 Cox Mill 2
WP Cade Kuehler
C – John Newton (HR) Brandon Hudson (double) Cade Kuehler (Triple) Carson Hegele (3-3)
CM – Michael Maroney (2-3) Nick Alderfer (2-3) Tyler Zedalis (double)
East Meck 5 Charlotte Catholic 3
WP Jack Meltsner
EM Trey Truitt (2 HR's) Brock Fowler (2-3)
CC Luke Taylor (HR) Nick Smith (2-3) Jack Davidson (2 runs)
Weddington 3 Butler 2
WP Dante Casicola
W Dusty Mercer (HR) Trevor Kowolski (2-3) Sam Kilinski (triple)
B Canon Pierce (2-3) Ryan Wilson (2-3)Peyton Huligan (double)
Myrtle Beach Tournament
Carmel Christian 8 Piedmont 5
WP Daniel Jones
CC Kyle Bean (2-3) Tyler Roakes (2-3) Chris Manriquez Jr (HR)
Piedmont Blake Smith (2-4) Carter Duhaime (3-3) Adam Quintero (2 runs)
East Lincoln 7 Porter Ridge 4
WP Ben Kleckner
EL Graham Smiley (2-3) Matthew McCowan (HR) Ethan Martin (HR)
PR JH Vaughan (2-3) Alejandro Perez (2-3) Blake Efird (2 runs)
SouthLake Christian 11 Metrolina Christian 9
WP Nicholas Noto
SLC Derek Farley (double) Joe Haney (4-4) Carson Hageman (3-4)
MCA Tucker Wrenn (2-3) Braxton West (2-3) Tommy Miller (HR)
South Meck 3 Providence Day 2
WP Brendan Bagwell
SM Owen Wilson (3-3) Casey Devine (double) Devin Armstrong (2 runs)
PDS Tyler Nee (double) Will Brinley (double) Baker Olin (2-3)
Jack Sink Round 2
Myers Park 5 Cuthbertson 4
WP Crawford Wade
MP – Adrian Sandoval (2-4) Luke Barbaryka (Double) Jack Shaw (SAC) Luke Metzler (SAC)
Cuth – John Newton (HR) Bennett Wolfe (Double) Cade Kuehler (3-3)
East Meck 5 Weddington 3
WP Cannon Turner
EM Trey Truitt (8 total bases, HR) JT Long (2-3) Dallas Allen (2-3)
Wedd Cory Hennings (double) Seth Clark (Sac) Avery Kimbrough (triple)
East Meck and Myers Park will meet in the finals
Cox Mill 5 Covenant Day 3
WP Nick Alderfer
CM Chandler Riley (4-4) Darrien Whitaker (2-3) Cole Fuller (3 runs)
CD Landon Howard (2-3) Timmy Cotton (3 walks, 2 runs) Landon Myers (SAC)
Butler 7 Charlotte Catholic 2
WP Ole Swenson
B Holton Watson (2-3) Matt Kenney (2-3) Travis Ziefert (3 RBI's)
CC Nick Smith (RBI) Justin Mansfield (2-3) Luke Taylor (SAC Fly)
UNCC Tourney

Charlotte Latin 4 Sun Valley 3
WP William Atwell
CL Max Rimler (SAC) Sam House (double) Atwell (double)
SV Nate Nygaard (double) Corey Avant (2-2)
Charlotte Country Day 8 Parkwood 6
WP Conner Bates
CCDS Huck Wathan (HR) Conner Miller (2 doubles) Donovan King (2-3) Davis Prevette (SAC fly)
P JD Lewis (3-3) Ashton Plyler (3 runs) Chase Belk (2-3)
Independence 11 Cannon 6
WP Lucas Turner
I Wilson Lohrer (double) Carson Gesing (HR) Peyton Milleman (3 RBIs)
C Reid Bertram (double) Tim Watson (3 walks) Kunal Handa (2-4)
Hickory Ridge 7 Olympic 6
WP Nick Artuso
HR Edie Dew (3-3) Jonathan Steele (HR) Adam Wilkerson (3 runs)
Oly Charlie Warnke (2-3) Trenton Mills (2-3) Josh Lail (triple)
Charlotte Country Day 9 Charlotte Latin 8
WP Connor Miller
CDS Scott Hosmer (3-3) Christopher Manzano (2-3) Sam Gilbert (2 RBIs)
CL Sam House (HR) William Atwell (3-3) Charles Watson (2-3) Thomas Hullinger (2 RBIs)
Independence 11 Hickory Ridge 3
WP Michael Rawlings
I Brandon Moser (2-3) Carson Gesing (Double) Tyson Clawson (5 RBIs)
HR Ick Cirino (HR) Edie Dew (double)
***Country Day and Independence to meet in Finals
Olympic 8 Cannon 3
WP Jacob Steinmetz
O Steinmetz (3 RBIs) Trenton Mills (triple) Logan Harris (triple)
C Kunal Handa (double) Reid Bertram (double)
Parkwood 3 Sun Valley 2
WP Andrei Beale
P Carson Starnes (HR) Ike Linton (double)
SV Matthew Watson (2-3) Max McGuire (2-3) Jimmy Kerley (double)
Myrtle Beach Tournament
Carmel Christian 5 East Lincoln 4
WP Tyler Roakes
CC Lucas Martino (2 HR's) Cooper King (2-4) Chris Manriquez Jr (2 doubles)
EL Ty Cobb (double) Graham Smiley (2-4) Garrett Michel (double)
South Meck 8 SouthLake Christian 4
WP Cooper Wilson
SM Brendan Bagwell (double) Owen Wilson (3-3) Casey Devine (Sac Fly)
SLC Joe Haney (HR) Derek Farley (HR)
***Carmel Christian and South Meck will meet in Finals
Porter Ridge 1 Piedmont 0
WP Cade Honc
PR Tanner Sweatt (2-3) Connor Shepherd (GWRBI in 7th)
P Jerrett Rayfield (2-4) Lane Jordan (double) Aidan Volk-Specht (double)
Providence Day School 7 Metrolina Christian 2
WP Jon Miralia
PDS Baker Olin (HR) John Miralia (HR)
MCA      Brian Kerns (3-3)   Braxton West (double)  Tommy Miller (1-2)
Charlotte Knights Tournament
Championship
Providence 2      Charlotte Christian 1
This matchup featured what many believe are the top two teams in the Charlotte area. The Knights had held back Brett Adams for the final while Providence entered on a pitch by committee plan knowing they still had about 30 pitches left from Eli Jerzembeck. Adams and Providence starter Jack Fairley placed zeroes across the board the first three innings. Brady Davidson pitched the fifth and sixth for Providence, giving up one run on a double by JD Suarez and singles from Philip Abner and Brett Adams. Adams gave up a run in the fifth on a Hunter Bryson blast to right center. Entering into the sixth Adams ran out of pitches with two outs and was relieved by Sam Goldstein who set down his first batter. Jerzembeck entered the game and struck out the side in the sixth. Providence scored the go ahead run on a Walker Wolff double and a Sam Fligel RBI single. Jerzembeck walked the first hitter he saw in the bottom of the seventh and then gave up a single to Jaxon Byrd before striking out the next two runner for the tournament championship win.
Ardrey Kell 8      Mooresville 5
WP Jake Cunningham
AK Tate Ellis (2-3) Matthew Suppa (2-4) Parker Anderson (3 runs)
M Cameron Clonch (HR) , Alex Coleman (double) Ian Bingham (double)
Lake Norman  5                Hough 3
WP Luke Schmolke
LN Matt Burt (3-3) Rudd Ulrich (double) Carson Arnold (2 RBIs)
H Jake Gorman (2-3) Wesley Lug (2-4) Evan Swiney (SAC)
Marvin Ridge     3             North Lincoln 2
WP Kyle McKernan
MR Josh swartz (double) Max Hyman (2-2) Jake Cannon (RBI)
NL Craig Rathbone (SAC ) Daniel Carter (2 runs) Seth Whitley (3-3)
Jack Sink Championship
Myers Park 4      East Meck 3
The two hosts met for the title in this tradition filled event. Myers Park put up 4 runs in the first to take control of the early part of the game,, a Preston Hall home run with two runners on was the big blow. East Meck battled back on the back of Trey Truitt who is swinging the hottest bat in the area now. Truitt's consecutive doubles cut the lead to 4-3 in the fifth inning. Myers Park Henry Minges entered the game and recorded a two inning save for the Mustangs. As usual a great tournament, wonderful hosts and great food off the grill at East Meck. Hats off to both teams for a great job of hosting.
Cuthbertson        7             Weddington  3
WP Brandon Hudson
C John Newton (3-4) Brandon Hudson (double)
W Dusty Mercer (HR) Michael Colonna (double)
Butler    9                            Cox Mill 8
WP Ethan Morgan
B Ashton Wolfe (3 runs) Hayden Davis (3 RBI's)
CM Chandler Riley (2-4) Darrien Whitaker (2 RBIs) Cole Fuller (3 runs)
Covenant Day 7 Charlotte Catholic 2
WP Jon Rossi
CDS Robert Stone (3 runs) Carson Dunlap (3 runs) Landon Howard (double)
CC Justin Mansfield (2-3) Dylan Chromy (triple)
UNCC Tournament
Charlotte Country Day School     5             Independence 4
The Buccaneers battled hard and jumped out to an early 4-1 lead after four innings. Reed Bolin did a tremendous job on the mound, recording 7 strikeouts in the complete game win. Connor Miller recorded 3 hits and Huck Wathan added a HR. Brandon Moser led Indy with 3 RBI's
Hickory Ridge     11                          Charlotte Latin 10
WP Nick Artuso
HR Caleb Topper (double) Ick Cirino (double)
CL Sam House (triple) William Atwell 4 RBI's)
Parkwood  3       Olympic  2
WP Andrei Beale
P JD Lewis (3-3) Ashton Plyer (3 runs)
O Josh Lail (2 RBI's)
Sun Valley 9        Cannon 2
WP Corey Avant
SV Corey Avant (3-3), Brandon Butterworth (4 runs)
C Reid Bertram (2 RBIs)
Myrtle Beach Tournament
Carmel Christian 4           South Meck 2
Carmel Christian Coach Chris Manriquez was forced to hold his ace, NC State signee Cooper King due to an odd scheduling quirk for the Cougars leading into the event. King was dominant for the Cougars with his slider working to perfection. For the second time this season, King recorded 15 plus strikeouts, ending this game with 16. The Cougars relied on the big bat of Lucas Martino who hit his third home run of the event. Chris Manriquez added a double and Tyler Roakes drove in the final run with a Sac Fly to score Gage Lewis. South Meck was led by Eli Shenise who drove in both South Meck runs on doubles. Owen Wilson played splendid defense and went 2-3 for the Sabres.
East Lincoln        11           SouthLake Christian 5
WP Ty Cobb
EL Graham Smiley (2-2) Garrett Michel (HR)
SLC Carson Hageman (double) Nicholas Nota (double)
Providence Day School  7             Porter Ridge 4
WP Tyler Nee
PD John Miralia (HR) Baker Olin (3-4)
PR Tanner Sweatt (3-3) AJ Camp (double) Wes Turley (triple)
Piedmont  13     Metrolina Christian 9
WP Aidan Specht
P Carter Duhaime (4-6) Blake Smith (3-6)
MCA Braxton West (4-6) Tommy Miller (4 RBIs)