Charlotte Virtual Softball Post Spring Break Games
Back to the Virtual norm after some great Spring Break action, all of the Charlotte area teams are heading down the final stretch to reach the playoffs. Two weeks will decide who is in and who is out.
Charlotte Catholic 4
Weddington 2
Charlotte Catholic used a strong pitching performance by MC Devanney to squeeze by the Warriors 4-2 on Monday night. Cara Bowman and Rachel Vigre each collected two hits and Tess Mulligan used a two RBI double in the sixth to put the game away. Weddington's Morgan Nayle pitched well but Charlotte Catholic hada little too much. Offensively, Maddy Wasulko had three hits and Beka Davis collected two for the Warriors.
Myers Park 4
Ardrey Kell 3
Myers Park used a two run top of the seventh and a shut down bottom half by Eva Hall to steal a win on the road Monday night. Ardrey Kell scored early against Madi Lojko when both Sam Mitchell and Hanna Barker homered in the first three innings. The 3-0 lead seemed like enough for Lexi Markle, but the come from behind Mustangs did it again. Myers Park cut the lead to 3-2 in the sixth when Claire Allison and Caroline Darwin scored on a Whitney Formon single. In the seventh, the Mustangs got a two out walk and down to their last out, Whittney Barringer delivered a two run homer to deep center. Hall pitched a one, two three seventh for the win.
Central Cabarrus 3
Providence Day 2
Abby Ragan pitched a beauty Monday night to give Central Cabarrus a hard fought 3-2 win over Providence Day. Central scored one run in each of the first three innings thanks to RBI singles by Brantleigh Parrott, Susie Workman and Aniyah Tate respectively. Providence Day answered by scoring one each in the top of the fourth and fifth thanks to an RBI double by Nadia Wheeler and a solo homer by Abby George. That's all the scoring that would happen as Jala Wright and Ragan each didn't give up a hit the rest of the night.
4/21 Charlotte Virtual Softball Games
Central Cabarrus 2
Charlotte Christian 1
Central Cabarrus relied on great pitching from Brantleigh Parrott and Abby Ragan to defeat Charlotte Christian Tuesday night. Wynne Gore kept the hot hitting Vikings in check all game as well. Central Cabarrus was led at the plate by Elyssa Bost with two hits and Susie Workman collected both RBI's with a fourth inning double. Charlotte Christian had chances to take the lead late but great defensive plays negated the charge. Charlotte Christian was led at the dish by MC Eaton and Mackenzie Prather that each had two hits.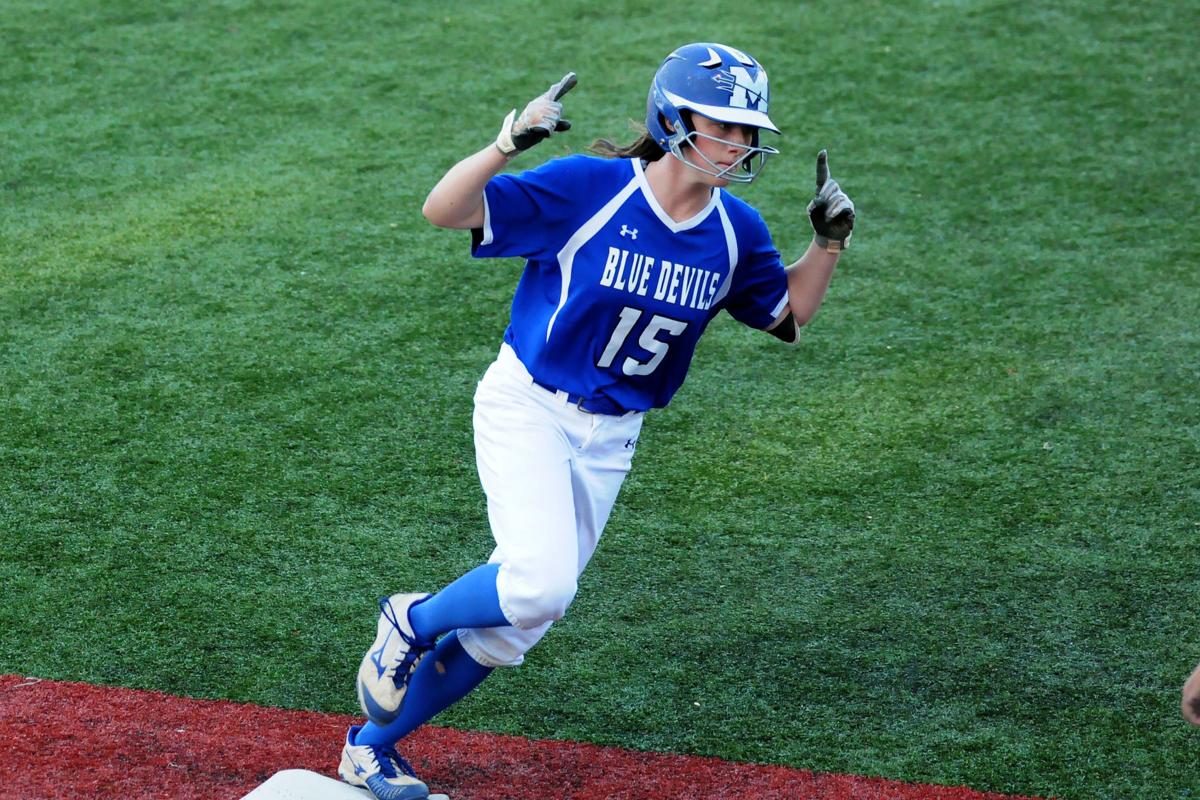 Mooresville 2
Cannon 1
Cannon held Mooresville scoreless for six innings with a strong effort in the circle by Gabby Holloway, but the strong hitting team from Mooresville delivered in the seventh to squeak out the win. Cannon took the lead in the fourth with a solo homer by Katie Grissom but was shut down most of the evening by Kali Morton. Mooresville got things going in the seventh when Aubrey Tuell walked to lead off the inning. Victoria Amon followed with a single and then Ellie Goings cleared the bases with a double and the lead. Morton set down Cannon one, two, three in the bottom half to preserve the win.
Lake Norman 3
South Meck 1
Lake Norman used small ball to take down the Sabres on Tuesday. Up 1-0 on a Carlee McWilliam RBI single in the second, Sabre pitcher Taylor Barlow was on cruise control until Lake Norman changed its game plan in the fifth. Linda Moore, Samantha Ladowski and Carly Christopher all took advantage of their speed and good bunting abilities to get on base and move runners over. Amy Meister and Hannah Rongo delivered RBI singles to take the lead in the fifth while Ashley Skipper went deep in the sixth to pad the lead. Linda Moore kept South Meck in check in the latter innings for the win.
Hickory Ridge 4
Marvin Ridge 1
Hickory Ridge used a balanced attack to defeat Marvin Ridge on Tuesday. The top five hitters in the Ragin Bulls lineup (Jadyn Jonasse, Rachel Herzig, Gracie parker, Kylie LaRousa and Erin Murphy) each had two hits on the evening and Alycea Gilliam added two RBI's in the effort. Marvin Ridge had chances but left eight runners on base throughout the night. The Mavericks were led by Sophie Mead and Madeline Walker who each had two hits.
4/22 Charlotte Virtual Softball Games
Porter Ridge 5
Hough 2
Porter Ridge broke a 2-2 tie in the bottom of the seventh with a three run homer by Makayla Cuthbertson to beat the Huskies Wednesday. Porter Ridge took a two run lead in the second on a two RBI double by Calyn Mincy but the Huskies countered immediately in the top of the third. Ann Michael Hudson doubled followed by an RBI single by Paige Steger. Steger then scored on an RBI double by Austin Pearce to tie it up. Laney Love and Mathea Borland cruised from there until the bomb in the seventh to give Porter Ridge the home win.
Charlotte Christian 4
Piedmont 3
Charlotte Christian bounced back in a strong way on Wednesday by defeating a strong Piedmont team. MC Eaton had another strong evening at the plate going 3 for 4 with 2 RBI's while Wynne Gore held Piedmont in check in the circle. Kendal Smith and Avery Bellai did have multiple hits for the Panthers but it wasn't enough.
Independence 4
Cox Mill 1
Independence scored early and held off a challenge from Cox Mill late to defeat the Chargers on Wednesday night. The Patriots scored two in the first on an RBI double by Mallory Shaver scoring Abriana Berry and Emma Wrenn. They added two more in the second on a two run homer by Mackenzie Grant. Cox Mill scored their lone run in the fourth on an RBI single by Maddie Griffith. The Chargers did load the bases in the bottom of the seventh with one out, but Jaylin Adkins got a strike out and a pop out to end the threat.
4/23 Charlotte Virtual Softball Games
Providence 2
Weddington 0
Providence used a great pitching performance from Lauren Cope to beat Weddington on Thursday. Cope threw a two hitter and struck out seven going the distance. Bridget Johnson and Grace Manning were the only two base runners for the Warriors. Morgan Nayle also pitched well but gave up two unearned runs. Macy Akia had an RBI double in the third and Berkeley Whitten added an RBI single in the fifth to secure the win for the Panthers.
Cuthbertson 5
Porter Ridge 3
Cuthbertson broke open a tie in the sixth and held on to beat the Pirates of Porter Ridge Thursday. Allee Seering hit a three run homer in the second and added an RBI single in the sixth to lead the Cavaliers at the plate. Emma Mooney also collected two hits. Sarah Myers had a big day at the plate for Porter Ridge collecting three hits and two RBI's. Alexa Fusco added two hits and an RBI.
Parkwood 8
Independence 2
Parkwood used a hot start to outlast Independence on Thursday. Parkwood scored two in the first on a Madison Roland homer and scored three in the second on back to back RBI doubles by Serena Yelich and Jenna Whelan. Independence scored both runs in the third on an RBI double by Emma Wrenn. Grace Crocker got in some jams throughout the game but worked out of most.
Providence Day 10
Marvin Ridge 1
Providence Day put together a great evening Thursday while Marvin Ridge didn't look themselves. Providence Day scored at least a run in each of the six innings to dominate the game. They were led at the plate by Nadia Wheeler with three hits while Katie Hollowell, Abby George and Grace Dillman each had two hits. Marvin Ridge collected four hits on the evening with Abigail Pierotti and Darcy McGhee each with two.
4/24 Charlotte Virtual Softball Games
Piedmont 13
Ardrey Kell 0
Piedmont pitcher Carson Lamm threw a one hitter Friday night as they beat Ardrey Kell. Lexi Markle had the lone hit for the Knights. Emma Gemind and Jillian Thomas collected three hits each while Hayle Eubanks and Brianna Steed each had two. Kloie Greene and Sky Harrington each had three RBI's.
Independence 5
South Meck 3
Independence bounced back from Thursday night and defeated South Meck on Friday. These teams met early in the real season and it ended in a tie. This game was tied through five complete but a two run homer by Jaylin Adkins in the sixth won it for the Patriots. Adkins also got the win in the circle while Taylor Barlow got the loss but struck out nine.
Cannon 3
Myers Park 1
Cannon used a two RBI double in the top of the seventh by Jessie Dickerson to pull away from the Mustangs on Friday. Gabby Holloway shut down the Myers Park offense and they could never get anything going. Alina Atzor had two hits for the Mustangs while Ashley Syzmonski had an RBI. Stephanie Grissom had two hits for Cannon as well.
Weddington 9
Cuthbertson 1
Weddington dominated the diamond on Friday night holding Cuthbertson to three hits and collecting eleven. Morgan Nayle pitched superb and was backed by Maddy Wasulko and Isabella Sadler with three hits each while Jocelyn Garcia and Layla Manning each had two. Cuthbertson's Kelly O'Neill did homer in the fourth.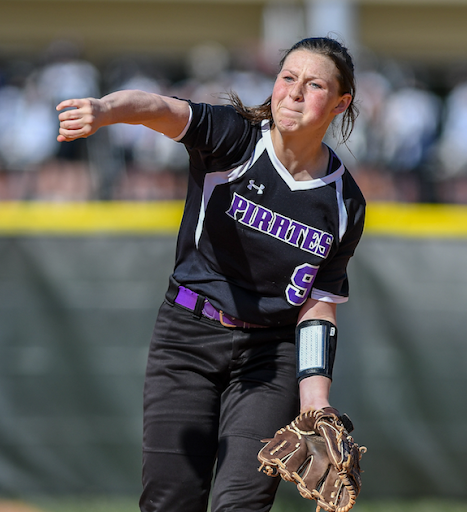 Porter Ridge 4
Hickory Ridge 3
Porter Ridge used a late inning rally Monday night to beat Hickory Ridge in Union County. Hickory Ridge scored all three of their runs in the top of the third when Alycea Gilliam led off the inning with a single followed by a double Payton Lautz. After Kasey Spease bounced out to the pitcher, Emily Barnes doubled in two and later scored on a Jaydyn Jonasse single. Porter Ridge cut into the lead in the bottom of the sixth scoring two. Sarah Myers and Lauren Love singled to lead off the inning and then scored on a triple by Calyn Mincey. IN the bottom of the seventh, Porter Ridge walked it off when Alexa Fusco and Madison Stamper reached base on singles and both scored on a Makayla Cuthberson double.
Ardrey Kell 2
Providence Day 1
The Knights of Ardrey Kell scored two in the first and got a great pitching performance from Lexi Markle to beat Providence Day Monday night. Sarah Smith and Grace McKee both scored in the first on a Sam Mitchell triple to take an early lead. Providence Day answered in the top of the second on an Abby George solo shot and then the pitching duel took over. Markle set down fifteen of the next sixteen batters while Jala Wright only allowed two additional base runners the rest of the game.
Hough 5
Cuthbertson 1
Hough used a strong outing by Mathea Brodland to ease by Cuthbertson on Monday. Anna Partridge, Austin Pearce and Lacey White each collected two hits while White also had three RBI's on the night. Brodland allowed one run on six hits against a steady Cuthbertson team. Kiana Termine and Grace Stein each had two hits for Cuthbertson while Stein scored the lone run on a Sidney Howell squeeze play.
Independence 18
Piedmont 6
The Independence bats came alive in a big way on Monday night. The Patriots had three different five run innings on the evening. Abriana Berry had a career night collecting seven RBI's and hitting for the cycle. Jaylin Adkins gave up six runs but got out of jams when she needed to. Adkins also collected three hits at the plate along with Mallory Shaver, while Emma Wrenn and Kirsten Kirby had two hits apiece. Piedmont was led by Carson Lamm who hit two solo homers and Hayle Eubanks who had two triples on the evening.
Lake Norman 5
Charlotte Catholic 0
Linda Moore pitched a two hitter on Monday night to lead Lake Norman to a comfortable victory.  Hannah Rongo and Carly Christopher each collected two RBI's on the night while Kenzie Sawyer was responsible for two doubles.  Charlotte Catholic got singles by Laura Anderson and Eva Kelleher.
4/30 Charlotte Virtual Softball Games
Charlotte Catholic 4
Cannon 3
Tess Mulligan pitched a complete game 5 hitter to outlast Cannon on Thursday. Cara Bowman and Rachel Vigre each had multiple hits and 2 RBI's in the victory. Cann on was led by Brie Biddle who had 3 hits while Sydney Wood and Gabby Holloway had the other hits for Cannon.
Providence 8
Myers Park 6
Providence used a big night by Carly Hite to defeat the Mustangs Thursday. Hite collected a triple, double and single while Kat Moody and Macy Akia each had two hits. The Mustangs tried to play catch up but it was too little too late. Madi Lojko and Sister Sam Lojko each had two hits. Whittney Barringer and Evy Oxendine each had two RBI's on the evening.
Piedmont 6
Hough 4
Piedmont took advantage of a big fifth and sixth innings to come from behind to defeat Hough. Down 4-1 after four complete, the Piedmont bats came alive scoring two in the fifth and three in the sixth on the long ball. Carson Lamm hit the two run homer in the fifth while Skye Harrington added the three run blast in the sixth to pull ahead. Austin Pearce and Peyton Palmer led the Huskies with multiple hits while Leslie Johnson had 3 RBI's.
Marvin Ridge 1
Charlotte Christian 0
Marvin Ridge had one hit on the evening but it was a big one. Cam Pfister homered in the first to take the lead and then Wynne Gore shut the Mavericks offense down. Unfortunately, the Mavericks pitching staff was up to the task. Ashlyn Roberts and Jayden DePollo combined to shut out Charlotte Christian. Mackenzie Prather of Charlotte Christian was the only player for either team to collect multiple hits.
5/1 Charlotte Virtual Softball Games
Ardrey Kell 6
Mooresville 5
Ardrey Kell scored two in the bottom of the seventh to up end Mooresville on Friday. Kali Morton, Imara Harrell and D'Nahjah Harrell all homered for Mooresville but Abby Newton's two run homer in the bottom of the seventh was just what the Knights needed. Lexi Markle and Sam Mitchell had RBI's for Ardrey Kell.
Parkwood 5
Cox Mill 4
Parkwood used solid defense late to hold on to beat Cox Mill Friday. Parkwood was led by Jenna Whelan and Cassidy Vance who each had two doubles on the evening while Natalie Ruth collected three RBI's. Cox Mill's Mary Brandle had a huge evening with a triple, double and single to go along with all four RBI's.
Hough 7
Lake Norman 3
Hough bounced back from Thursday's loss to defeat a strong Lake Norman team. Mathea Brodland pitched six solid innings and Peyton Palmer collected the save in the seventh for Hough. Ann Michael Hudson and Anna Partridge each had multiple base hits. Lake Norman was sluggish but led by Linda Moore with a triple and single as well as Hannah Rongo with two doubles.
Hickory Ridge 8
Myers Park 6
Hickory Ridge defeated Myers Park in a slugfest on Friday night to end the virtual regular season. Jadyn Jonasse, Gracie Parker and Kylie LaRousa each had multiple hits and two RBI's each for Hickory Ridge while Myers Park was led by Whitney Formon, Brylie Major and Aniya King who each had multiple hits. As this series has gone over the years, it came down to who had the last at bat. That was the Ragin Bulls on this night. Tied going into the bottom of the seventh, Kylie LaRousa ended it on a bomb to straight away center.