2020 Charlotte Virtual High School Baseball Championship Tournament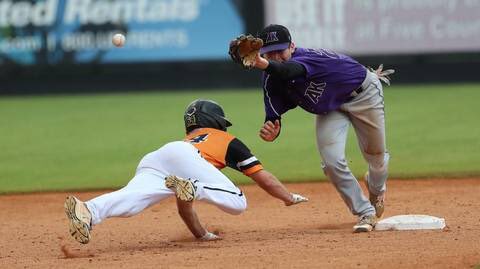 FOLLOW THE ENTIRE 2020 CHARLOTTE VIRTUAL HIGH SCHOOL BASEBALL SEASON HERE
After a 6 week seasons of virtual baseball games involving 32 area Charlotte High School Baseball Teams, its now time to play to a championship
The 17-32 seeds open round one, for the chance to move on to play the 9-16 seeds and then waiting those winners will be the top 8 seeds.
One the field is reduced to 4 teams in the Championship Bracket, a Best of three series will be held to determine the two final teams who will then battle it out on the home field of the Charlotte 49er's in a Best of Three Series
All teams that are eliminated in round 3 will play for a Virtual Silver Championship
Other consolation games may be held for teams that do not advance to the Sweet 16.
Please remember this is all for fun and we have taken the opinions of multiple baseball coaches and fans as to how the games and championship should be played out. There is truly no way to honestly seed the event, so beyond the top 24 we have gone with a virtual draw for spots.
Sit back and enjoy as this Virtual event is simply one attempt by South Charlotte Sports Report to keep the focus on high school baseball after all the other local and state sports media has buried spring sports in their hot pursuit of what will happen to football and basketball. While I care about those sports, I refuse to not honor spring sports athletes with all they deserve and more.
Enjoy
Tripp Roakes
Top 32 Seeds and Opening Schedules
1
Charlotte Christian
2
Myers Park
3
Providence
4
Cuthbertson
5
Lake Norman
6
Hough
7
Mooresville
8
Weddington
9
Covenant Day
10
Cox Mill
11
Ardrey Kell
12
Carmel Christian
13
Providence Day
14
Marvin Ridge
15
North Lincoln
16
East Meck
17
South Meck
18
Independence
19
Country Day
20
East Lincoln
21
Hickory Ridge
22
Sun Valley
23
Butler
24
SouthLake Christian
25
Porter Ridge
26
Charlotte Catholic
27
Piedmont
28
Parkwood
29
Olympic
30
Charlotte Latin
31
Metrolina Christian
32
Cannon
Round 3
Round 1
Round 2
32
Cannon
Round 1 Winner
17
South Meck
16
East Meck
Round 2 Winner
1
Charlotte Christian
25
Porter Ridge
Round 1 Winner
24
South Lake Christian
9
Covenant Day
Round 2 Winner
8
Weddington
29
Olympic
Round 1 Winner
20
East Lincoln
12
Carmel Christian
Round 2 Winner
4
Cuthbertson
28
Parkwood
Round 1 Winner
21
Hickory Ridge
13
Providence Day
Round 2 Winner
5
Lake Norman
31
Metrolina Christian
Round 1 Winner
18
Independence
15
North Lincoln
Round 2 Winner
2
Myers Park
26
Charlotte Catholic
Round 1 Winner
23
Butler
10
Cox Mill
Round 2 Winner
7
Mooresville
27
Piedmont
Round 1 Winner
22
Sun Valley
11
Ardrey Kell
Round 2 Winner
6
Hough
30
Charlotte Latin
Round 1 Winner
19
Country Day
14
Marvin Ridge
Round 2 Winner
3
Providence
First Round
# 17 South Meck 11 # 32 Cannon 4
WP Brendan Bagwell
SM Owen Wilson 2-4, Brendan Bagwell, HR, Eli Shenise 2 RBI's
Can Jack Mahar 2-3, Charlie Titus double
# 24 SouthLake Christian 4 # 25 Porter Ridge 1
WP Joe Haney
SLC Joe Haney HR, Derek Farley HR, Carson Hageman 2-3
PR Tanner Sweatt 2-3, JH Vaughan, double
# 20 East Lincoln 5 # 29 Olympic 2
WP Ty Cobb
EL Graham Smiley 2-3, Garrett Michel 2-4
Oly Trenton Mills double, Logan Harris 2-2
# 21 Hickory Ridge 8 # 28 Parkwood 3
WP Nick Artuso
HR Edie Dew double, Adam Wilkson HR, Ick Cirino 3-4
PKW Austin Burns 2-4, Ike Linton double, Carson Starnes SAC
# 18 Independence 11 # 31 Metrolina Christian 4
WP Michael Rawlings
I Bryson Jusko 3-4, Carson Gesing 3 runs, Wilson Lohrer 2 RBIs
MCA Tucker Wren 2-4, Blake Patterson double
# 26 Charlotte Catholic 2 # 23 Butler 1
WP Luke Taylor (10 K)
CC Adam Featherstone Triple, Justin Mansfield Double, Dylan Chromy RBI
B Travis Ziefert single, Hudson Deese, double, Peyton Hulligan RBI
# 22 Sun Valley 8 # 27 Piedmont 3
WP Corey Avant
SV Jimmy Kerley HR, Nate Nygaard 2-4 Brandon Butterworth 4 steals
P Corey Sikes 3-3, Carter Duhaime double, Adam Quintero 2-4
# 19 Country Day 8 # 30 Latin 3
WP Cooper Bates
CCDS Jack Bowling double, Huck Wathan HR, Stephen Payne 2 runs
CL           William Atwell 2-4, Max Rimler SAC, Sam House RBI
Round 2 Games
# 16       East Meck           5                            #17 South Meck               4
WP Cannon Turner
EM Trey Truitt, Walk-Off HR, Dallas Allen 2-4, Brantley Truitt SAC
SM         Casey Devine 2-4, Cooper Wilson 2-3, Brendan Bagwell HR
# 9 Covenant Day            4                            # 24       SouthLake Christian        3
WP Robert Stone
CD Jon Rossi 2-4, Landon Howard double, Ben Walton 2-3
SLC         Josh Haney HR,  Derek Farley HR
#12        Carmel Christian               7             # 20       East Lincoln 4
WP Chris Manriquez, Jr
CC Lucas Martino 2 Run HR, Cooper King SAC, Tyler Roakes 2-4
EL           Graham Smiley 2-3, Matthew McCowan 2-4, Ethan Martin double
# 13       Providence Day                               4             # 21       Hickory Ridge     1
WP Jon Miralia
PD Jon Miralia HR, Baker Olin 3-3,
HR          Ick Cirino 1-3
# 15       North Lincoln     4                            # 18       Independence 2
WP Seth Whitley
NL Jake Soorus 2-3, Trace Dlugolenski 2-3, Daniel Carter Double
INDY      Michael Rawlings Triple, Carson Gesing 2-3, Wilson Lohrer double
#10        Cox Mill                8                            # 26       Charlotte Catholic   4        
WP Martin Gair
CM         Chandler Riley 4-4, Cole Fuller 2-4, Nick Pratico double
CC Nick Smith RBI, Luke Taylor RBI, Alex Featherstone 2-3
# 11       Ardrey Kell          3                            # 22       Sun Valley 2
WP Jake Cunningham
AK Charlie Kirby SAC, Tate Ellis 2-3, Parker Anderson SAC
SV           Nate Nygaard,  2-3,   Brandon Butterworth SAC
# 14       Marvin Ridge      2                            # 19       Country Day       1
WP Kyle McKernan
MR Mickey Baia 2-3, Josh Schwartz 2-3, Kyle McKernan RBI
CD          Connor Miller 2-3, Stephen Payne RBI, Huck Wathan double
Round 3 Games